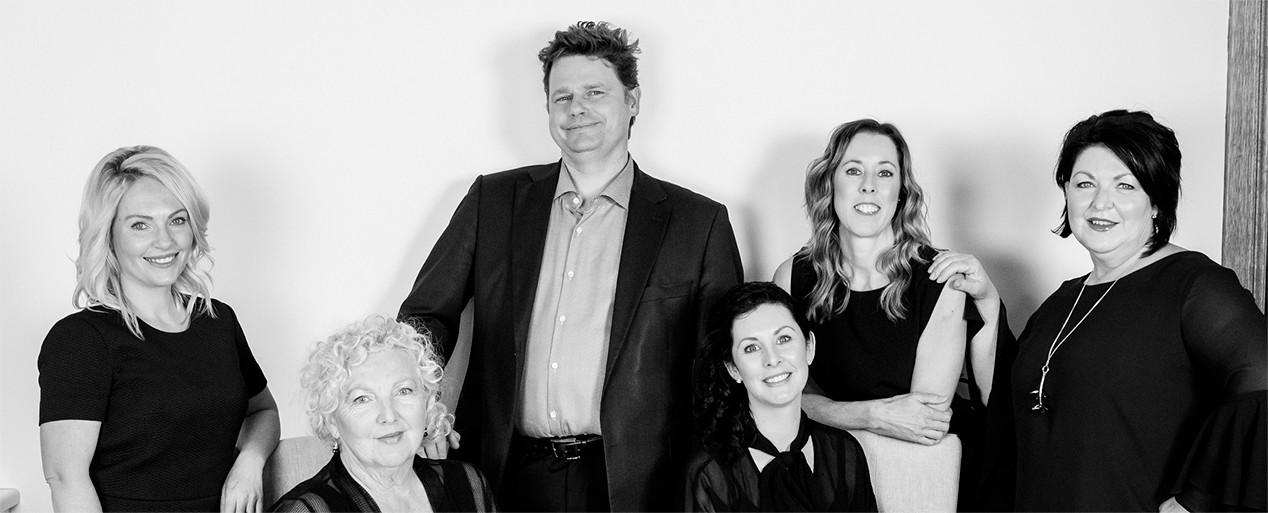 Sculpt Tummy Tuck After Pregnancy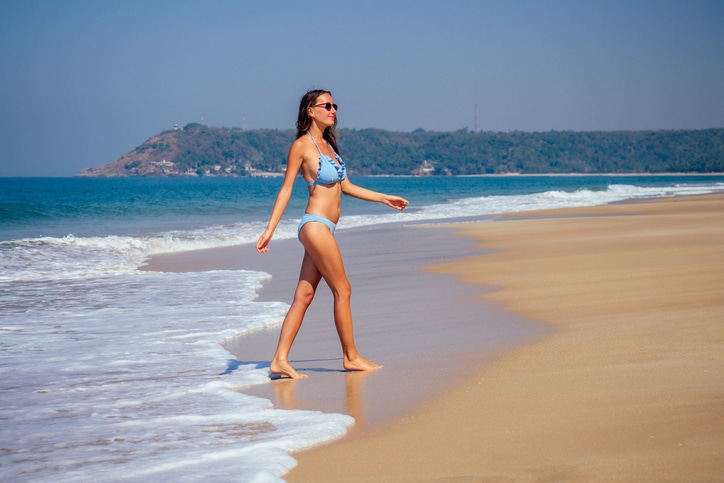 Many women have loose skin, unwanted fat, and abdominal muscle separation after pregnancy. These changes can result in physical discomfort, loss of self-esteem, and ill-fitting clothes. If you have these issues, a specialist surgeon at Body Contouring Surgery Clinic may recommend a Sculpt Tummy Tuck.
Also known as VASER lipo-abdominoplasty, the Sculpt Tummy Tuck targets the three main concerns women have after pregnancy:
Excess fat
Muscle separation
Loose abdominal skin
This guide to Sculpt Tummy Tucks has important information you need to know such as:
What is a Sculpt Tummy Tuck?
What is VASER liposuction?
Three types of Sculpt Tummy Tucks
Benefits and risks of Sculpt Tummy Tuck surgery
Who is a good candidate?
What happens during the operation?
Sculpt Tummy Tuck recovery and aftercare
How long it takes to see results
Choosing a Sculpt Tummy Tuck surgeon
What is a Sculpt Tummy Tuck?
Body Contouring Surgery Clinic sees a lot of post-pregnant women who need tummy tucks. Our surgeons have found that the Sculpt Tummy Tuck beautifully reshapes the abdomen, removes more fat, and adds natural-looking definition compared to a standard tummy tuck. Our specialist surgeons have advanced training in this technique.
Sculpt Tummy Tuck is a term coined by specialist general surgeon, Dr Bernard Beldholm, FRACS. It refers to lipo-abdominoplasty, which is the medical word for a tummy tuck with liposuction. Our Sculpt Tummy Tuck method uses VASER technology, which is considered the gold standard of liposuction by many surgeons around the world.
How is a Sculpt Tummy Tuck different from a regular tummy tuck?
Learn why our surgeons prefer the Sculpt Tummy Tuck instead of a standard tummy tuck with liposuction.
A safer and easier recovery
The Sculpt Tummy Tuck minimises dissection. Our surgeons only dissect down to the scarpa's fascia, a tough membrane in the abdomen. And if you need abdominal muscle repair during your tummy tuck, they only dissect a small tunnel in the abdomen to access the muscle, rather than opening up the whole area. These steps reduce tissue trauma and nerve damage, potentially making your tummy tuck recovery faster, safer, and more comfortable.
No drains
The Sculpt Tummy Tuck uses tissue glue when closing the abdomen. Medical literature has shown this lowers the risk of bleeding and seroma, a complication in which fluid builds up in the tissues and needs to be drained. Since there is less space for the fluid to collect, our surgeons at Body Contouring Surgery Clinic can avoid using drains, which can be uncomfortable for the patient and are also a source of infection.
VASER reduces fat on the abdomen
While a traditional tummy tuck only removes excess skin and the subcutaneous fat that is attached to it, adding VASER liposculpture allows for greater fat reduction and improved definition of the abdominal contours during a tummy tuck. The goal is to create a flat, sculpted tummy that looks similar to how it did before pregnancy or better.
Liposuction 101
There are many liposuction devices on the market today. Some surgeons use traditional methods such as manually breaking apart the fat with an aggressive back-and-forth motion before removing it with a suction cannula. This can cause extensive bruising and tissue trauma. Newer forms of liposuction such as VASER take a gentler approach, yet they are considered just as effective, if not more so at removing fat.
What is VASER liposculpture?
VASER liposculpture represents the latest advancement in liposuction technology. Instead of breaking the fat cells apart manually, the VASER probe goes under the skin and emits ultrasonic waves by vibrating at a high frequency. The acoustic energy liquefies the fat cells until they have the consistency of melted butter. This makes it easy to suction the fat out through a cannula.
What are the benefits of VASER?
While it takes a little longer than traditional liposuction, recent medical data suggests that this gentler technique causes less trauma, bruising, and bleeding. For some patients, this might mean a faster, safer, and less painful recovery.
Types of Sculpt Tummy Tucks
The three main types of tummy tucks for postpartum women are the mini tummy tuck, full tummy tuck, and extended tummy tuck.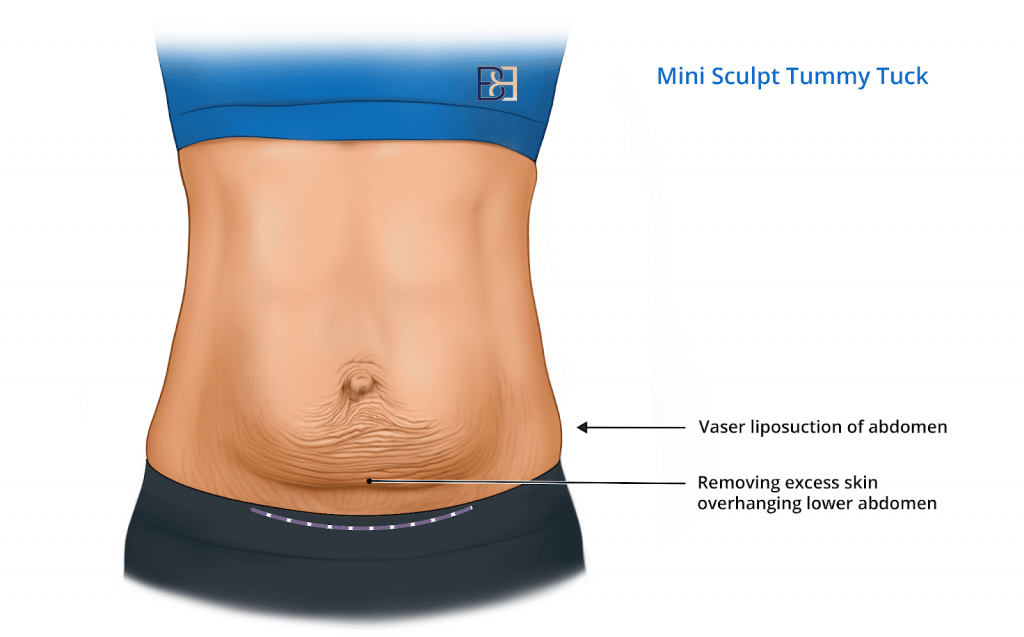 Mini Sculpt Tummy Tuck
The mini abdominoplasty removes the least amount of skin. It is good for correcting a small overhang above the C-section scar. It addresses the lower abdomen only and does not include muscle repair. The mini tummy tuck has the smallest scar and the shortest recovery time. During a Mini Sculpt Tummy Tuck, your surgeon can reduce fat pockets with VASER liposuction as well.
Full Sculpt Tummy Tuck
A standard tummy tuck addresses laxity on the upper and lower abdomen with a horizontal incision from hip to hip. It may also include abdominal muscle repair. VASER liposculpture helps to tone and sculpt the abdomen by reducing fat.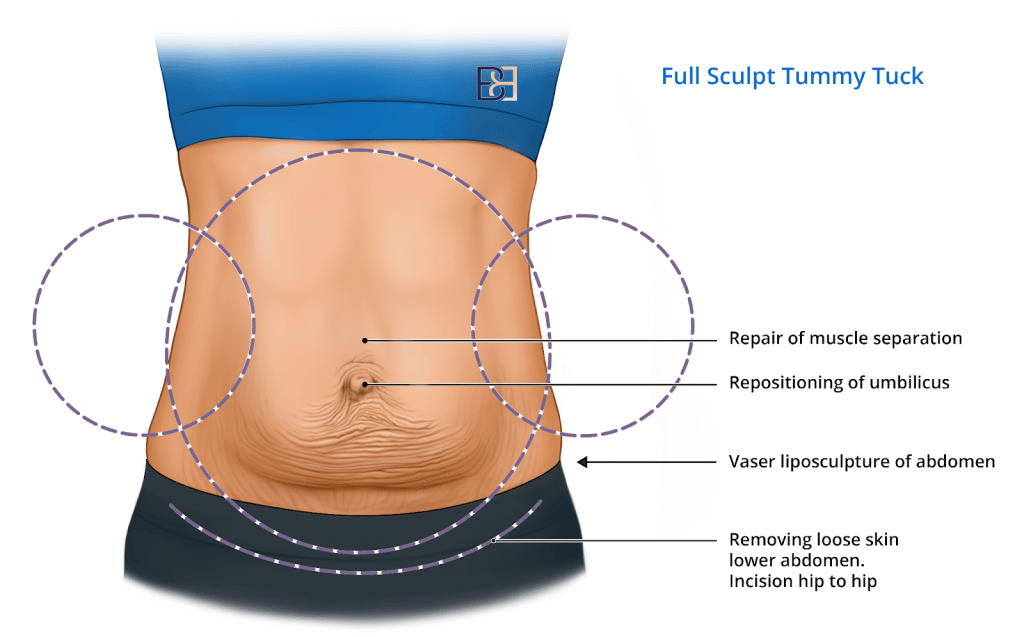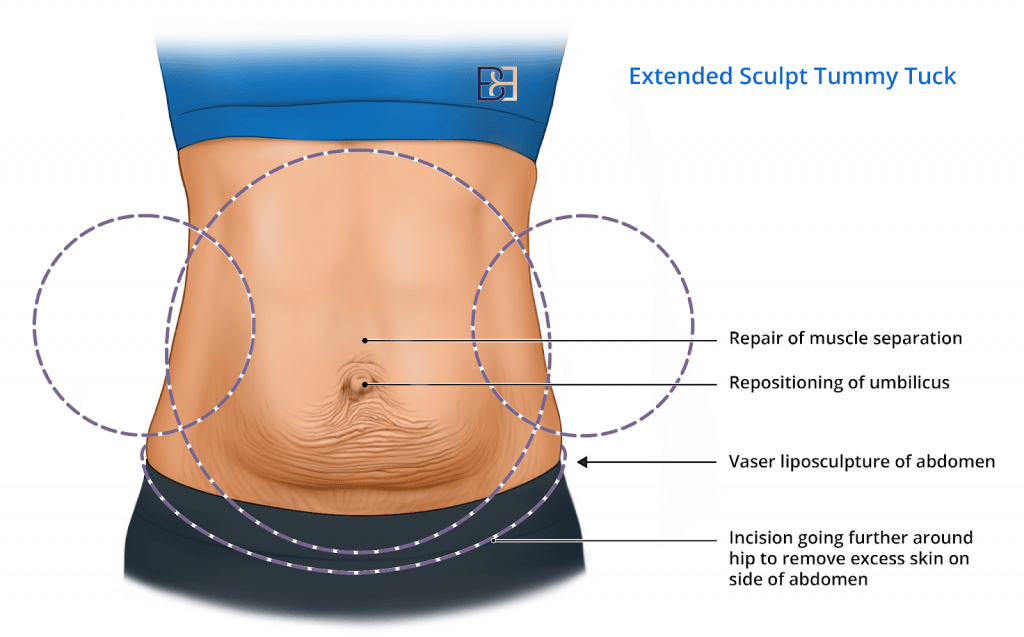 Extended Sculpt Tummy Tuck
This extended abdominoplasty addresses the belly and waistline with a long incision across the lower abdomen and over the hips. It removes more skin than the previous types of tummy tucks and has the longest scar. An extended tummy tuck also includes muscle repair if needed. Using VASER liposculpture, our Sculpt Tummy Tuck surgeons can eliminate fat bulges for an even smoother result.
Benefits of the Sculpt Tummy Tuck
While having surgery is a big decision, a Sculpt Tummy Tuck can have positive effects such as:
Less fat
Firmer skin
Enhanced self-image
Improved core strength
A flatter, sculpted midsection
Less skin chafing and rashes
More confidence during intimacy
Reduced discomfort during exercise
Ability to wear more clothing, bra, and swimwear styles
A potentially faster and easier recovery with less risk of complications
Who is a candidate for a Sculpt Tummy Tuck?
Our Sculpt Tummy Tuck is designed for patients who have excess skin and fat on the abdomen after pregnancy or weight loss. The ideal candidate does not smoke & is in good overall health.
Women must not be pregnant or nursing. Ideally, you should be done having children before considering a tummy tuck. A tummy tuck won't affect fertility, but a future pregnancy may lead to loose skin and muscle separation all over again.
While a Sculpt Tummy Tuck can boost self-esteem since the patient may feel great about their appearance afterward, it is not a cure for depression, body dysmorphia, or other mental health issues.
Your surgeon at Body Contouring Surgery Clinic values your safety. They will carefully screen you for contraindications before recommending a tummy tuck.
Sculpt Tummy Tuck Risks
Mums considering a tummy tuck should carefully weigh the risks and benefits before deciding to have surgery. All tummy tucks carry risks. The Sculpt Tummy Tuck method aims to lower the chance of complications. Possible tummy tuck risks include:
Seroma
Infection
Mortality
Necrosis
Blood clots
Asymmetry
Haematoma
Poor scarring
Haemorrhage
Wound dehiscence
Pulmonary embolism
Prolonged numbness
Dissatisfaction with results
Bad reaction to anaesthesia
Skin irregularities from liposuction
Healthy patients who follow all their surgeon's aftercare instructions tend to have the lowest complication rates. If you have questions about your health conditions, don't be afraid to voice your concerns during your consultation. Our surgeons are invested in providing the high-quality care you deserve. They will answer all your questions and let you know if you are healthy enough to have a tummy tuck.
The Surgery: What happens during a Sculpt Tummy Tuck?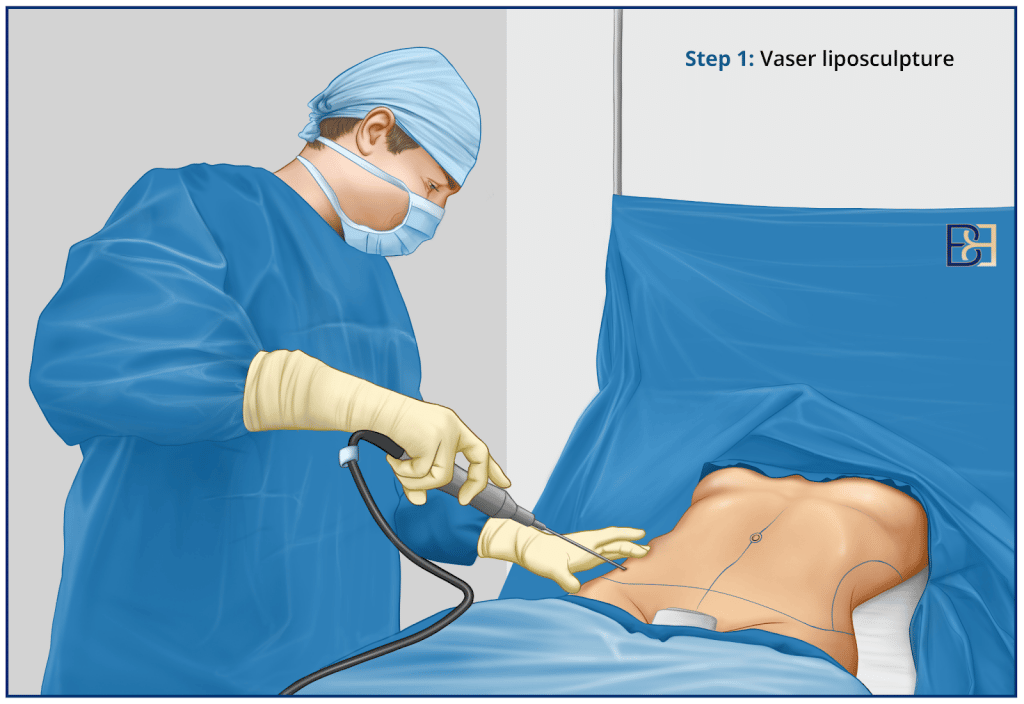 After you undergo general anaesthesia, your surgeon will inject a wetting solution into your abdomen. They will then pass the VASER probe through small incisions in your skin. The VASER device emits ultrasonic energy to gently break apart the fat cells. Next, they will extract the liquefied fat through a thin tube that is hooked up to a suction machine.
Your surgeon will make an incision around your navel to free your belly button. They will also make a horizontal incision from hip to hip. Note these incisions vary based on the type of tummy tuck. For example, a mini tummy tuck does not require a navel incision and has a smaller scar.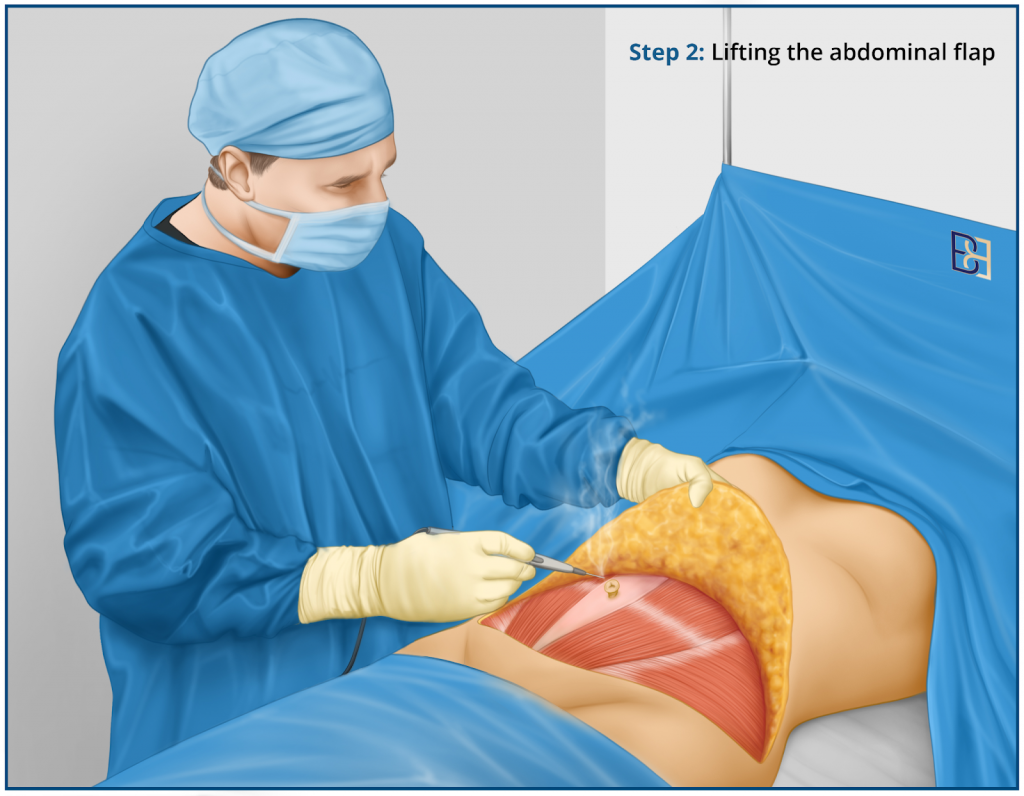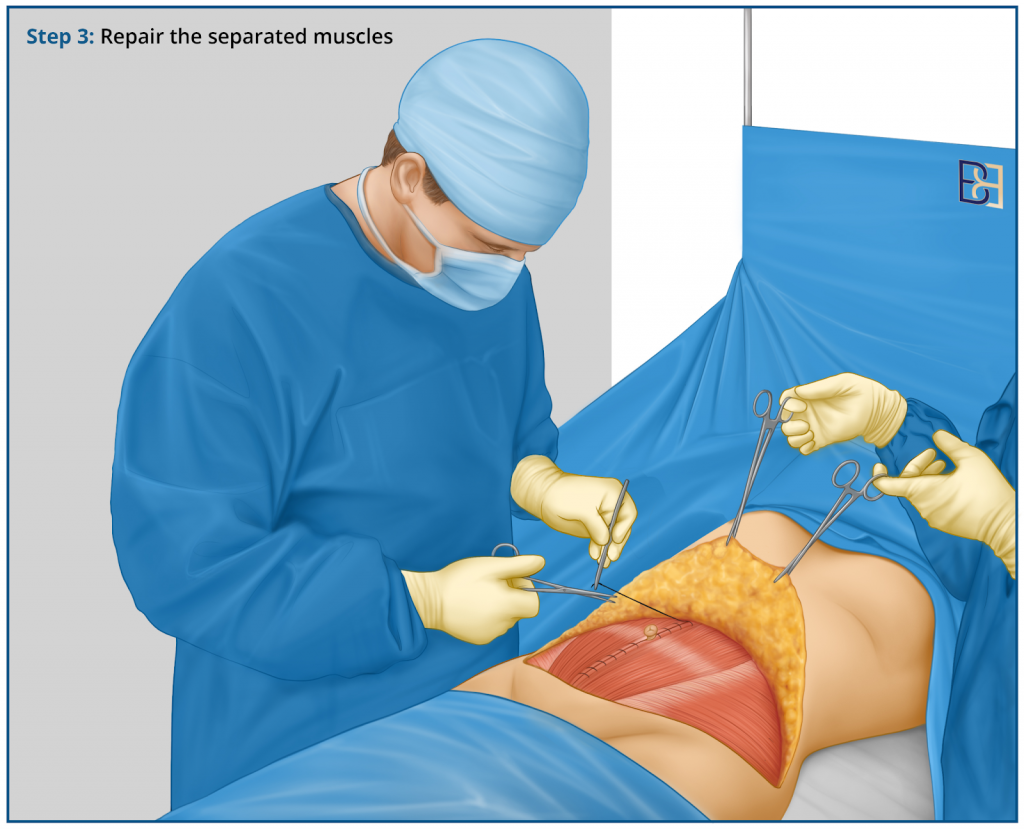 They will dissect and elevate the skin flap. Now, the rectus abdominis muscle is visible. If you have muscle separation from pregnancy, they will suture the muscle together if necessary.
Finally, they will trim away the excess skin and pull your skin, leaving your abdomen smooth and taut. They will close the incision in layers, working from the deeper abdomen up toward the skin surface. As they do this, they will also apply a special tissue glue. This sprayable glue reduces gaps in the tissues where fluid tends to collect, so you won't need to wear surgical drains when you wake up. Finally, they will create a new hole for your belly button and artistically suture it in place.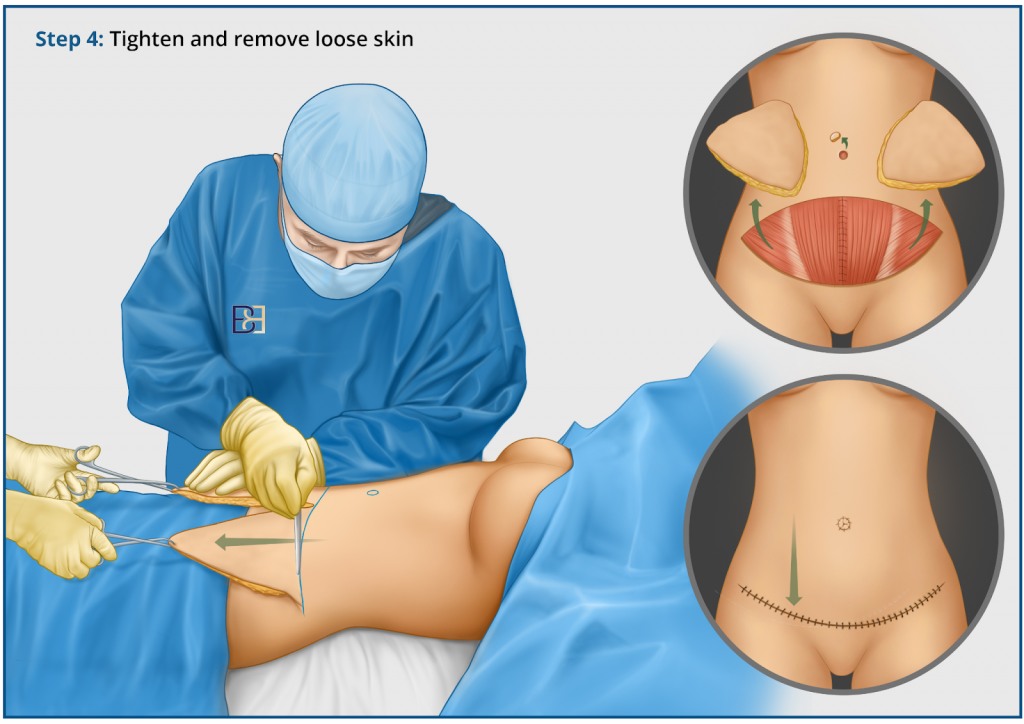 Sculpt Tummy Tuck Aftercare
Depending on the extent of your surgery, you may be discharged from the hospital the same day or you may spend one or more nights in the hospital. Someone will need to be present to drive you home. Your tummy tuck scar will be bandaged with a wound dressing. You will need to wear a compression garment all day and night for the first few weeks and then just 12 hours a day for a few weeks more.
Sculpt Tummy Tuck Recovery
Expect to feel tired and groggy for up to 24 hours after general anaesthesia. Post-operative pain is generally moderate. Our surgeons will prescribe analgesics to minimise pain during your first few days of recovery.
Time Off Work and Driving
You will need to take time away from work and driving to recover. The length of time depends on the type of tummy tuck.
Mini VASER Tummy Tuck: 10 days to 2 weeks off work, 10 days off driving
Full Vaser Tummy Tuck: 3-4 weeks off work, 2-3 weeks off driving
Extended Vaser Tummy Tuck: 3-4 weeks off work, 2-3 weeks off driving
Physical Activity
Walking is encouraged from day one. You will probably feel more comfortable walking bent at the waist for the first ten days after your Sculpt Tummy Tuck. Most of our patients are cleared to go back to the gym at four to six weeks post-op, but you can do light exercise and take longer walks 14 days after your surgery.
Swelling and Numbness
Your abdomen will have substantial swelling right after your tummy tuck surgery. The swelling can last several weeks to months. Numbness in the abdomen generally subsides in the first three months but may last longer. You may have occasional shooting pains as the nerves begin to heal.
Tummy Tuck Scars
The surgical scar is usually placed on the lower abdomen from hip to hip. The scar will appear dark and raised at first. It should flatten and fade, blending in with your skin over time. Scar maturation takes approximately 12 to 18 months. Your scar will lose the ability to tan and may have a smooth or shiny texture compared to the surrounding skin. You will also see small scars at the VASER insertion points. These usually heal well and are typically smaller than a pencil eraser.
Sculpt Tummy Tuck Results
It takes 12 to 18 months to appreciate the full results of a tummy tuck with VASER. You will need to allow time for the initial swelling to go down and for the scar to heal. As your healing progresses, your abdomen should appear flat, firm, and smooth, looking similar to how it did before you got pregnant or better.
Our surgeons at Body Contouring Surgery Clinic can show you before-and-after tummy tuck photos. While results will vary, it should give you a sense of what kind of results you can expect in general.
Schedule Your Consultation for a Sculpt Tummy Tuck with a Surgeon at the Body Contouring Surgery Clinic Today
Finding the best tummy tuck surgeon in Australia often comes down to the surgeon's qualifications, experience, and bedside manner. Patients often see the best results with a specialist surgeon who has extensive training in body contouring work, including abdominoplasty.
The specialist surgeons at Body Contouring Surgery Clinic have years of advanced training in postpartum body contouring, including the Sculpt Tummy Tuck technique. Their lives are dedicated to helping women feel more confident and beautiful after pregnancy. Together, they have thousands of patient success stories and glowing online reviews.
To learn if the Sculpt Tummy Tuck is right for you, call us to meet with a Body Contouring Surgery Clinic surgeon today. They can tell you about your options and empower you to feel great in your skin after pregnancy!